Meet the Hyksos
Why Hykso?
The first thing people want to know after asking how they should pronounce our name (it's pronounced "hik-soh" by the way) is why we decided to name the company Hykso.
Well, the company is named after a mighty people that invaded Egypt in about 1650 BC. They are known to have brought several technical innovations to Egypt.
A Little History
WE DRANK
2767
CUPS OF COFFEE

WE WORKED
10950
HOURS

OUT OF
950
DAYS

SINCE
2013
ANNO DOMINI
Khalil did his master thesis in MEMS at the University of Toronto. During the same time, he trained with some of the best boxing coaches in Ontario. The idea came to Khalil when he reached a level in boxing where progress becomes very hard to quantify and where the feedback from coaches becomes controversial. An objective tool was clearly needed, and there was none.
Our Team
Khalil Zahar
CEO
Top graduate and mentor at the Founder Institute.
Discovered and proved a novel method to calculate the drift time in Electrospray Ionization Ion Mobility Spectrometers.
Winner of the International Startup Festival Best On-Stage Pitch.
During his studies at University of Toronto, Khalil trained with some of the best boxing coaches in Canada.
Alex Marcotte
CTO
Found his passion for electronics at the age of 15 years old.
An all around electrical engineer with expertise on all levels from the embedded system hardware to mobile applications.
Engineering project manager on multiple successful projects, including the world's most efficient electric vehicle at the Eco Shell Marathon 2014.
He is also a breakdancer.
Patrick Chandler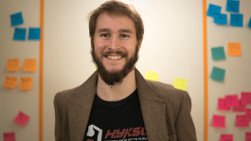 CHIEF DATA SCIENTIST
Early Entrepreneur who launched a profitable game company at the age of 12 over a single summer.
While studying at McGill University he was the head organizer of the largest student run charity event at McGill, the Open Air Pub, which raises $125k every year for local charities and non-profits.
He also won the McGill Engineering Week Design Competition for 2 years in a row.
He was a member of the underground McGill Algorithmic Trading Group.
Tommy Duquette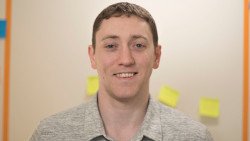 HEAD OF GROWTH
Tommy is a 2013 graduate of Babson College's Business Management and Entrepreneurship program (Magna Cum Laude).
He is a multiple-time Golden Gloves champion and a former member of the United States National Boxing Team.
He entered the 2012 US Olympic Team Trials as the #2 seed and just missed qualifying for the London Games after losing to Olympian Jamel Herring on a razor-thin 12-12 tie breaker.
He enjoys reading. His favourite author is Cormac McCarthy .
Alex Lapointe
VP RESEARCH AND DEVELOPMENT
Built the world's most efficient electric vehicle at the Eco Shell Marathon 2014, still undefeated.
Lead organizer of the largest social events on the University of Sherbrooke campus.
Involved in the electronics and computer sciences for more than 10 years.
World Traveler, musician, surfer & snowboarder.
Jay S. Rousseau
MARKETING OPERATIONS
Won best upcoming journalist award from Laval University.
Part of the Founding team of the Lean Startup Circle in Montreal.
Mentor and teacher in Quebec City's tech incubator.
2001 Quebec Champion in gymnastics.
Our Advisors
Vicken Kanadjian
Co-Founder and Managing Director at Cesium, Inc. Vicken was the first to unlock iPhones in Canada.
Sergio Escobar
Director of Founder Institute's Montreal Chapter Sergio leads the world's most successful Founder Institute chapter.
Naveen Jain
CMO & Co-Founder at Immunity Project Naveen is a Y-Combinator alumni. He manages social medias for celebrities such as Bon Jovi and the Killers.
Melvina Lathan
NY State Athletic Commission Melvina was the first African American woman named commissioner for the state of New-York's athletic commission.
Marc -Antoine Ross
Data Engineer, Intel Security Co-Founder at PassworBox, acquired by Intel
Rodolphe Beaulieu
Partner at LB3i Sports Inc. Rodolphe is an agent for UFC's biggest fighters including Georges Saint-Pierre
Ray Smaltz
Executive Producer, Showtime Ray has worked on the most watched fight ever to air on Showtime.
Chad Godfrey
Current VP at Flex Pharma Nasdaq FLKS working on consumer brand
Team Hostshot
. Previous roles include management at successful acquisitions including Gemvara.com and BuyerZone.com.